| | |
| --- | --- |
| Steven performed during the summer of 2005 in Foothill Theatre Company's production of My Way - A Tribute to Frank Sinatra which played in Nevada City June 23 thru August 14, with three benefit performances for the Lake Tahoe Shakespeare Festival on June 27, 28 and 29 in the world-famous Celebrity Showroom at the Cal Neva Resort and Casino (owned from 1960-63 by the Chairman of the Board himself) in North Lake Tahoe. An evening of 56 classic Sinatra songs. Sharing the stage were Cara Burgoyne, Alex Miller, Laura Woody & band members Jack Wallace, Alex Scribner, and Tim Stephenson, all directed by Sharon Winegar. | Steven in My Way at Foothill Theatre |
"All four performers (and the band accompanying them) received a well-deserved standing ovation ... Steven Patterson nearly brought down the house with his rendition of 'That's Life.'"
Don Chaddock, Auburn Sentinel
Steven appeared on the evening of April 18, 2005 as Ron in Ralda Lee's No Train as part of the 11th Annual Fifteen Minute Play Festival presented annually by the American Globe Theatre and the Turnip Theatre Company. Margo Whitcomb directed.
---
Prior to our move to NYC in September of 2004, Steven wrapped up a terrific summer gig with the Lake Tahoe and Sierra Shakespeare Festivals, where he appeared as Don Pedro in Much Ado About Nothing (directed by Philip Charles Sneed) and as Duke Senior in As You Like It (directed by Rebecca Dines) first in Sand Harbor, Nevada and then in Grass Valley, California.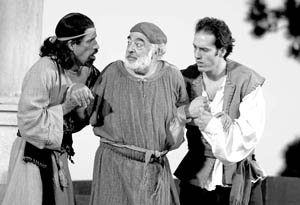 Once we hit NY, he appeared at Dodger Stages (just a block & a half away from our new digs) in a number from The Shaggs at the National Alliance for Musical Theatre's October 3rd Songwriters' Showcase.
In late October, he returned to the Bay Area to appear in a series of readings of Randall Stuart's The Inkwell Communiques at Project Artaud, College of Marin, and Berkeley Rep's Roda Theatre. And he's currently auditioning his little ass off in the hopes that gainful (or at least artistically fulfilling) employment will continue to crop up.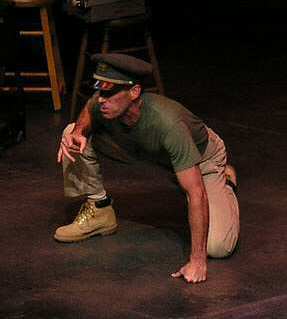 ---
THE SHAGGS: PHILOSOPHY OF THE WORLD
The Los Angeles world premiere of Joy Gregory & Gunnar Madsen's musical The Shaggs: Philosophy of the World, with Steven as Austin Wiggin, enjoyed an extended run at [Inside] the Ford in Hollywood at the end of 2003, winning near universal critical and audience acclaim and scooping up fistfuls of end-of-season honors, including 3 Los Angeles Drama Critics' Circle Awards, 6 Backstage West Garland Awards, 4 LA Weekly Awards, and an Ovation Award as "World Premiere Musical" of the year. The strange but true story of an obsessed stage father, his unfortunate, not-very-talented girls, and one of the worst bands in rock-and-roll history, The Shaggs was presented in L.A. by the Powerhouse Theatre of Santa Monica with support from A.S.K. Theater Projects as part of its final "Hot Properties" series, a program designed to aid in the production of exciting new works by adventurous Los Angeles theatre companies. This was the first full production the show had received -- Steven had previously participated in a Kent Nicholson-directed staged reading that was presented at TheatreWorks in December of 2001 as part of their New Works Initiative. A new production was mounted by Lookingglass Theatre of Chicago in the spring of 2004 and it also appeared as part of the 2005 NY Musical Theatre Festival from September 27 thru October 2.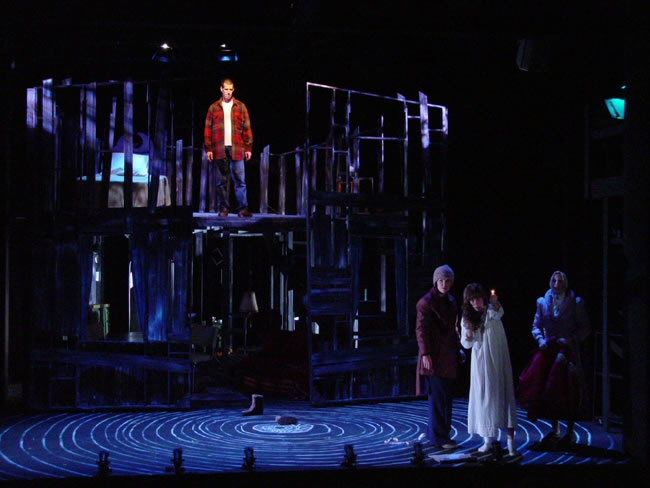 "CRITICS' CHOICE ... By turns hilarious and troubling, celebratory and darkly ironic, The Shaggs moves on its feet as surely as it moves us. Seldom has so-called 'outsider art' struck so close to home ... Director John Langs' production artfully walks a line between knockout professionalism and knockabout simplicity. The cast is flawless."
Rob Kendt, Los Angeles Times
"The Shaggs is a world premiere and it is an important one for Los Angeles ... Looking like a cross between a Francis Bacon and an El Greco, Steven Patterson's portrayal of Austin Wiggin is incendiary from the first moment he appears on stage. Inside the Ford is a small theater and Patterson's menace and rage floods the space ... A genuinely moving piece of theater."
James Taylor, KCRW Theater Talk
"Heartbreaking yet hilarious ... Was their band an idyllic memory or a terrible nightmare? With the appearance of their father early in the play, that debate would seem to have been settled right off the bat. Austin Wiggin (Steven Patterson) abruptly emerges from the darkness in the girls' loft bedroom, a frightening apparition mournfully singing 'Silent Night.' In this primal moment Patterson is unmistakably a gargoyle of gothic imagination; you'd have to rummage through film noir and opera villainy to find comparisons -- the preacher, say, in Night of the Hunter or Samiel in Der Freischutz. In Gregory's treatment, however, Austin quickly mellows into a kind of Yankee Murray Wilson -- the Beach Boys' warped stage dad/manager. Turns out Austin's just another bitter blue-collar for whom the American Dream is a cruel gag. Patterson's Austin effortlessly straddles the fine line between psycho dad and beaten-down lug, his performance never losing its gleam of menace."
Steven Mikulan, LA WEEKLY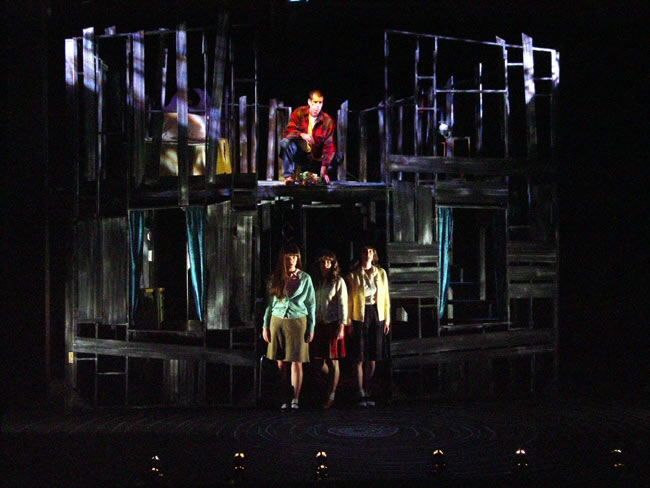 "In The Shaggs, the happy-go-lucky nature of this tale about a father using his teen daughters to cash in on a fad ventures into dark and ominous territory, morphing into a story of paternal domination. Production is made all the more menacing by Steven Patterson's portrayal of seething Wiggin patriarch Austin. The role of Austin explodes in Patterson's portrayal, growing so wicked that Patterson takes him out of Fremont and drops him off in Cape Fear."
Phil Gallo, Variety
"The Shaggs takes glorious flight in its modest but dazzling premiere, somewhat akin to discovering such enduring rock musical classics as Hair or Rent in their original barebones venues; I cannot recommend it more highly."
Travis Michael Holder, Entertainment Today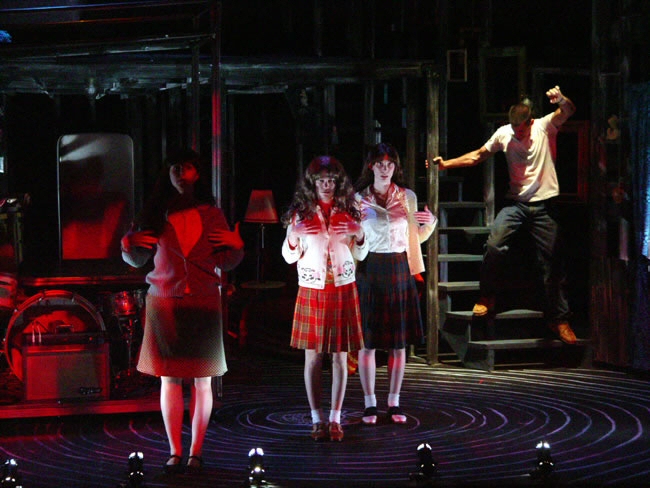 "BEST PLAY OR MUSICAL 2003, SMALL VENUE ... One of the most inventive and emotionally layered -- and best acted -- new musicals to premiere in Los Angeles in several years."
Jeff Favre, Ventura County Star
---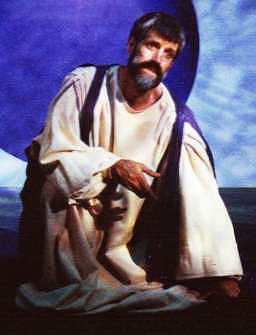 Steven as Prospero in "The Tempest"
In 2000, in addition to directing Kaliyuga Arts' production of Michael Ondaatje's The Collected Works of Billy the Kid, Steven's acting career (such as it is) continued apace. He appeared during March as Prospero in Shakespeare's The Tempest at Calaveras Repertory Theatre in Milpitas, read the role of Achilles in Troilus & Cressida for Theatre Bay Area's Shakespeare Marathon at The Marsh, played Benny Southstreet in Frank Loesser's musical comedy classic Guys & Dolls for the Pacific Alliance Stage Company in Rohnert Park, and was featured as Fenton Hardy (the Hardy Boys' father) in Kaliyuga Arts' Secret of the Old Queen and as Hermocrates in Triumph of Love for TheatreWorks in Palo Alto (Dean Goodman Choice Award winner for Ensemble Performance).

Colin Thomson, Will Marchetti, Steven (in red) and chorus in "Guys & Dolls"
Steven, Kirk Herring, Jonathan Rhys Williams, Patrick Flick and Livia Genise in "Triumph of Love"
Additionally, Steven and Livia Genise (one of his Triumph of Love co-stars) wound up "gracing" the cover of the Winter Issue of the Visitor's Guide To The Midpeninsula and performing their duet from the show, "The Tree", at the Bay Area Theatre Critics' Circle Awards ceremony.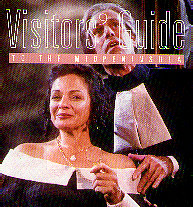 Kaliyuga Arts, 520 W. 50th St. D4, New York, NY 10019 518-943-3894
Copyright © 1998, Kaliyuga Arts