HORRIPILATION!
Written and Performed by John Sowle
Directed by Steven Patterson
Costumes by Silvia Jahnsons
Three Performances: Monday, Jan 16th through Saturday, Jan 21st, 2012
At Stage IV, Roy Arias Theaters, 300 W. 43rd Street, New York, NY
The writer and performer of Horripilation!, John Sowle, is unquestionably a shining light in the fields of research and preservation of obscure global theatrical traditions, as well as being an imposing performative figure in the relating and embodiment of these same traditions. In 1973, with a Fulbright fellowship to research a doctoral thesis in dramatic art, he spent time at the Kerala Kalamandalam in southern India, where he was obliged to rise each morning at 3 a.m. in order to begin his day's grueling training in traditional dance movement and actorly craft. Kept on his feet for hours at a time, in a highly repetitive form of dance stepping, his relief would come finally in the form of a massage administered by his teacher (asan), who would walk up and down his back while he lay in a formally controlled position. It should come as no surprise that classical traditions of drama and dance, wherever they originate, involved a regimen of severe physical hardship and mental discipline, but the sharing of these events in the performance by Mr. Sowle, as he reproduces the exercises nearly forty years later, is quite something to witness.
He is telling us about the southern Indian tradition of Kutiyattam, and of the Natya Shastra of Bharata, an ancient text on the rules and aesthetics of theater – a medium itself imparted to humankind as a divine gift because its sacred deviser would not entrust the gods with such a potent form of diversion. The historical and mythic dimensions of the tradition are complex and rich, and as involved as the formal rites, rules, and roles of the drama are exhaustive. Alone on stage, in traditional Indian garb, Mr. Sowle enumerates some of the primary categories of consideration as to theatrical principles: for the erection of a theater, the composition of such, the qualities requisite in an actor, and the physical language of actorly expression. He demonstrates for us as he does so, at one point marching out into the auditorium with a length of rope in order to show the necessary dimensions required in establishing both the performance space, and the audience space. Indeed, and not surprisingly, there are rules that extend to the audience too, as to their composition, number, and receptiveness. In many ways we are witnessing a form of cultural archaeology.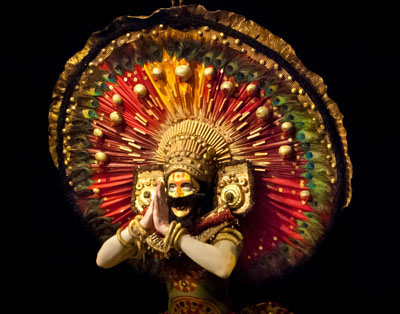 As he speaks, gestures, and dances, the actor casually moves the minimal props around the space, and matter-of-factly attires himself in various parts of his costume and make-up. He segues easily into excerpted scenes from classical epics of Sanskrit, demonstrating the formalized expressions and gestures he has introduced to us. ... Mr. Sowle does have one great "dramatic" trump card in this piece, which he plays to perfection right at the conclusion. Horripilation, a word we should all adopt into our vocabularies, is a term describing the upward movement of the hairs on our skins on account of goosebumps stimulated by something observed. In Kutiyattam, all performers should be capable of producing this effect in their audience. For the jaded audiences of the present, it sounds like a tall order. But eerily, almost quietly, the actor creates just this effect in the final five minutes of his show as, fully painted and costumed in high finery, he becomes an extraordinary character while dancing in a quaint, exotic manner, eye and head movements formally observing the codes he has related. You were looking at something quite other, quite riveting. I didn't check to see if I had goosebumps but, for several minutes together, I was experiencing something quite beyond them.

Jeffrey Paddy Johnson, The Happiest Medium
Previous Reviews
Voted Best of the Fringe at the San Francisco Fringe Festival.
"A wonder to behold! ... An autobiographical exploration of the art of ancient Indian theater, playing on the dynamic between the material's rigorous content and a casual, conversational presentation ... A stunning display."
Neva Chonin, San Francisco Bay Guardian
"In his new solo performance art piece Horripilation!, Sowle combines the raw spiritual power of Teyyam with the disciplined technique of the Natya Shastra to create a unique and powerful theatrical experience ... This show plunges audiences into a dazzling realm of color and movement virtually unknown in the West but filled with amazing insights and valuable lessons for all those who treasure theatre."
Teed Rockwell, India Currents
"Sowle has a charming stage presence and his knowledge of his subject is awesome."
Dean Goodman, Drama-Logue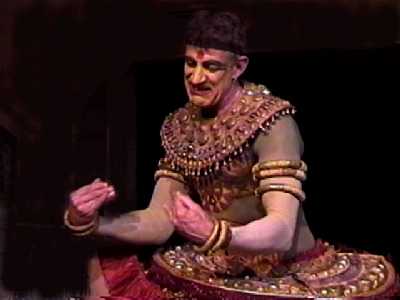 "We so enjoyed/admired/learned from your show! Exhilarating to witness and, beyond that, led to days of discussion afterwards ... We were all ready to weep or cheer with gratitude! ... Congrats to you and to Steven. It was a truly memorable night."
Nancy Langert, Oakland, CA
"Makes me wanna jump a steamer for Kerala ... Thank you for your story and your inspiration!"
Claude Palmer, San Rafael, CA
PERFORMER'S NOTE
In 1973 I received a Fulbright Fellowship to study drama in South India. I was assigned to Kalamandalam, the school for Kathakali actors which was located in a small village in Kerala State. There I discovered Kutiyattam, which is an ancient but living tradition in which actors, dressed in elaborate costumes, perform Sanskrit dramas using ritualized movements and chants. It forms the basis for the later Kathakali dance drama which is very popular in India. I ended up studying this amazing theatrical form with Raman Cakyar, a truly wise teacher, and his students, and I wrote my Ph.D. dissertation on this art form.
In researching this piece, I decided not to use Kutiyattam directly, since it depends so much on music, costumes and spectacle not available to me, but instead to go back to the source book of all the theatrical forms in India, the Natya Shastra. This "Science of Acting," which may have been written in about 200 BC, is probably the most comprehensive book ever written on the theatre. The author calls himself Bharata, a word that later came to mean actor. This work needs to be better known in the West. It is full of insights and ideas that are completely applicable to the modern theatre. I hope that this performance will give you a taste of its contents.
| | |
| --- | --- |
| | For the costume I turned for inspiration to Teyyam, a very ancient ritual festival tradition also performed in Kerala State. Though there are theatrical elements in it, its primary purpose is not entertainment, but religious -- to manifest a deity in the human world. It seems to me that one of the purposes of the Natya Shastra is to provide techniques to control and redirect divine energy in more visible, human ways. |
Kaliyuga Arts, 2678 Old Kings Road, Catskill NY 12414 518-943-3894
Copyright © 2015, Kaliyuga Arts