John's Page
Wherein John presents a portfolio of miscellaneous theater and other adventures.
This is way out of date. Updates coming in 2013!
2010-2012
John became the Literary Manager at Stageworks/Hudson and, with the artistic director Laura Margolis, directed Play by Play - Blue Moons, Play by Play - Shadows, Play by Play - Rendezvous and designed the set for the 2011 production of Tennis in Nablus. I have also posted my Ph.D. dissertation on Kutiyattam on line.
2005 - 2009
Included our move to New York City and Kaliyuga productions there as well and building a house on 10 acres in Catskill, NY.
2005
Desperate for a list of all the shows I've ever done. Then you're in luck. I finally put it together ...
2003 Work
We did another production of Heaven Ablaze in his Breast for Contemporary Opera Marin at College of Marin. This time I not only directed and officially designed but also played the evil Dr. Coppelius, fortunately a non-singing role. Steven was in the chorus as well. Then we took the show off to London for two performances at the Royal College of Music with the composer in attendance. She seemed very impressed with the whole thing, in spite of miniscule audiences.
Then we hit the SF Fringe again. I directed and designed Crime and Variations for Joe Besecker. It turned out to be an audience favorite.
2002 Work
Not much but Kaliyuga Arts this year. I did do some design work for Joe Graham's film Vanilla, which has its World Premiere in May, 2004 in in Milan.
2001 Work
I directed another opera for Contemporary Opera Marin -- Gomorra, by H.K. Gruber. A monster. Pictures soon...
Also this was the year I directed and designed Mary and the Hydrangea Bush, by Joe Besecker at Noh Space. Pictures soon...
2000 Work
In addition to my work on Heaven Ablaze In His Breast, Salvador Dali, Secret of the Old Queen and Billy the Kid, I created a bizarre, lopsided Victorian-wedding-cake of a set (complete with pop-up furniture) for Signal Theatre's production of Cindy Lou Johnson's The Years at New Langton Arts and provided the lighting design for Teatro Shalom's Speed the Plow at EXIT Stage Left.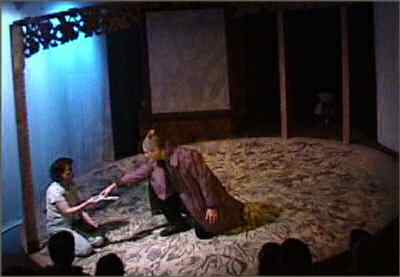 The Years
For a complete list of all the shows I've done, click here.
Kaliyuga Arts, 2678 Old Kings Road, Catskill NY 12414 518-943-3894
Copyright © 2011, Kaliyuga Arts