CRIME AND VARIATIONS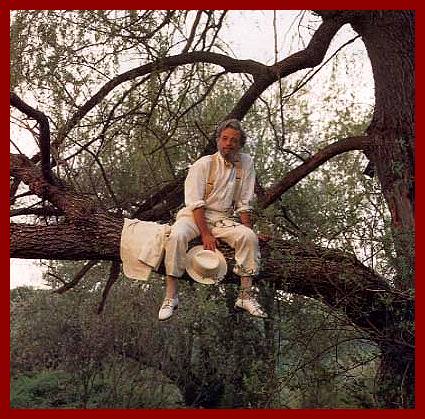 Hmmm. Sondheim in a tree.
Stephen Sondheim is in BIG trouble. His brand-new musical about the King brothers' murder case (featuring Sean Penn, Mandy Patinkin, and Robert Downey, Jr.) has just bombed in front of an audience of potential backers. With a post-reading reception in full swing, he sequesters himself on the balcony of his Manhattan condo with director Daisy Prince (Hal Prince's daughter), Alex King (who killed his father with a baseball bat), and Tierney (the wealthy older woman Alex has married while he was still in prison) -- and the claws come out. J.B. Enterprises, in association with the San Francisco Fringe Festival, presented CRIME AND VARIATIONS, an acerbic new one-act comedy by Joe Besecker (whose THE WAY LIGHT STRIKES FILLED MASON JARS was named "Best of Fringe" 2002 and whose MARY IN THE HYDRANGEA BUSH John helmed several years back). A classic bitch-fest with machine-gun dialogue, it's the most hilarious piece Joe has ever penned and was a real departure both for him and us. John directed, Steven appeared as Stephen Sondheim with Jennifer Taggart as Daisy Prince, Kevin C. Malfatti as Alex King and Carolyn Doyle as Tierney King. The fur flew at the EXIT Theatre on September 4th (7pm), 6th (10pm), 12th (8:30pm) and 14th (11:30am). For further information about the SF Fringe Festival, click here.
HEAVEN ABLAZE IN HIS BREAST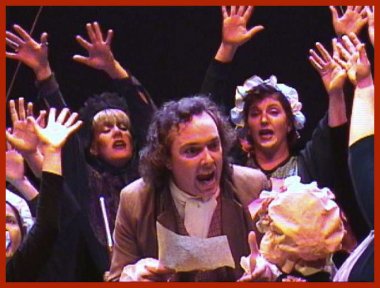 John recently re-mounted his staging of Judith Weir's opera HEAVEN ABLAZE IN HIS BREAST for Contemporary Opera Marin. Performances of a "Concert Suite" were presented in three different Marin County locales on April 11th, 12th & 13th, 2003 and the fully-staged production (paired with Steven's staging of TANGO by Robert X. Rodriguez) was presented on June 21st, 25th & 27th on the College of Marin campus in Kentfield. Both pieces (along with Harry Partch's BARSTOW: EIGHT HOBO INSCRIPTIONS) then toured to London's Royal College of Music for two performances at the Britten Theatre on July 4th (with the composer in attendance) & 5th. In addition to his directorial duties on HEAVEN ABLAZE, John designed the (portable) set and played the role of the villainous Doctor Coppelius. And Steven was involved as well, singing in the chorus and playing the role of Siegmund.
During our time in London, we were able to link up with Jill Dowse (author of our production of X: THE RISE & FALL OF AN ASYLUM STAR) and family, take a quick day trip to Winchester for a reunion with our colleague Silvia Jahnsons (costume designer for our productions of THE PUBLIC and HORRIPILATION!), walk all over the city, and see some wonderful theatre (Ibsen's BRAND with Ralph Fiennes, the RSC's CORIOLANUS at the Old Vic, PACIFIC OVERTURES at the Donmar Warehouse) as well as a delightful performance by the John Harle Saxophone Quartet at St. Giles Cripplegate. Great, exhausting time.

Kaliyuga Arts, 2678 Old Kings Road, Catskill NY 12414 518-943-3894
Copyright © 2011, Kaliyuga Arts